Description of
If you do anything online and care about your privacy, you can't ignore the fact that data breaches, spyware, and identity theft are all too common in the modern world. But it's not hard to make sure that your user accounts, browsing history, and the most sensitive information about you don't fall into the wrong hands.
In this guide, we'll show you a number of easy and inexpensive ways to improve your online security. These include password managers, virtual private networks (VPNs), strong security tools, and better browsing habits. We've put the tips into groups so that it's easier for you to find the ones that might help you the most.
What does it mean to keep your online life private?
To protect your privacy online, you should try to share as little information as possible. You'll always have to give up some information in order to use the online services that many of us use every day, but there are ways to make sure that the information you do give doesn't get into the wrong hands. By being careful about what you share, it will be harder for people to get into your online accounts, find out things about you that you don't want everyone to know, and use your identity to get credit cards and loans.
There are different levels of online privacy, of course, depending on what kind of information you want to hide and from whom. Even though it's a good idea for everyone to do things that can help prevent things like identity theft and account loss, you may have reasons to hide things like your social media status updates and photos. This guide has advice for all of these things.
How to protect yourself online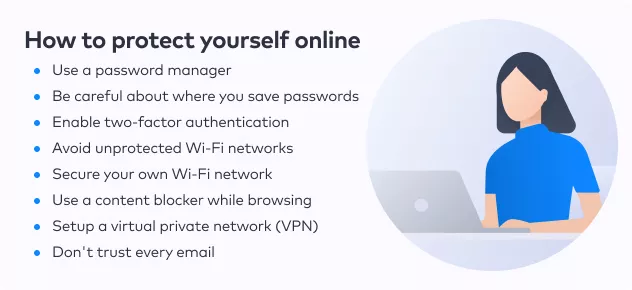 Use a password manager
Be careful about where you save passwords Protect Your Online Privacy
Enable two-factor authentication
Avoid unprotected Wi-Fi networks
Secure your own Wi-Fi network
Use a content blocker while browsing
Setup a virtual private network (VPN)
Don't trust every email
Use a password manager
Using the same password for all of your online services is one of the most common mistakes many internet users make. It might be convenient, but if your login details for just one account are leaked, it means everything else is also compromised. Set yourself up with a secure password manager — such as 1Password, Dashlane, or LastPass— which will help you create and store secure passwords that are easily accessible anywhere.
A good password manager has strong encryption that makes it almost impossible for anyone else to get your passwords. You can also use it on all of your devices. This makes it easier to get to your favorite services quickly without having to remember different account information or write it down (another big no-no). Many password managers can also store credit card information, documents, and other things in a safe way.
Watch where you put your passwords.
It's safe and easy to use a secure password manager, but you should be careful about saving your passwords anywhere else. If your phone or computer gets stolen, you don't want those passwords to be easy for someone else to find. If you have to save your passwords in a browser, make sure it's one that needs a password, like Safari. And don't put passwords in plain text files or notes that anyone can read.
Set up two-factor authentication
One way to protect yourself online is to use strong passwords that are different for each website you visit. Another option is to turn on two-factor authentication for all services that support it. With two-factor authentication, you need to enter both your password and a temporary code to get into services like Amazon, Gmail, PayPal, and many others.
You can get this code through a text message, an email, or an app like Google Authenticator. When you use two-factor authentication, even if someone finds out your password for one site, they can't get into your account unless they also know your phone number or email address.
Avoid Wi-Fi networks that aren't protected.
We've all used unsecured Wi-Fi networks in hotels, coffee shops, and other public places when our cell service wasn't great or we ran out of data and needed to get online. Did you know, though, that public Wi-Fi networks aren't very safe? They are often used to spy on a user's browsing traffic and get to their data.
If you want to stay safe in public, the best thing you can do is to avoid connecting to unsecured Wi-Fi networks. Stay on the cellular data network as much as possible, or wait until you can use a secure Wi-Fi network.
Make sure your Wi-Fi network is safe.
For the same reasons as above, you should protect your own Wi-Fi network with a password so that only you and people you trust can connect to it. If you don't protect your network, anyone close by can connect to it without your knowledge and use it to spy on your web traffic or do other bad things.
Use a content blocker when you're online.
Almost every website you visit keeps track of what you do online. This means that no matter how secure your password is, someone (usually advertisers) is probably learning a lot about you that you don't want them to know. Using a content blocker in your web browser is a simple way to stop that from happening.
Some browsers, such as Safari, have certain protections built-in that make it more difficult to track you. But a dedicated content blocker like 1Blockerfor Safari, uBlock Origin for Chrome, or Privacy Badger do a much better job of ensuring that your browsing habits remain completely anonymous. As an added bonus, many also block pesky online ads. StopAd feature, available for Safari and Chrome, is an option that will help you protect against unwanted intrusion in this manner.
Setup a virtual private network (VPN)
For even greater protection while using the internet, you might choose to use a secure virtual private network (VPN), such as Private Connect, integrated VPN, or ExpressVPN, NordVPN, or Private Internet Access.
Also, check out these reviews:
A VPN hides your browsing activity so that no one else — not even your internet service provider in some cases — can see what you're doing while you're on the web.
Don't trust every email
Phishing emails are one of the most common ways for cybercriminals to get a user's login information. These are fake emails that are made to look like they came from a real, trusted source. They usually ask you to log in to an online account. They have links to websites where any information you enter goes directly to an attacker AndProtect Your Online Privacy.
Don't believe everything that comes into your inbox so you don't fall for phishing emails. Check the sender's email address to make sure it's real, and look out for things like typos and images that don't look quite right. These are usually signs that the email is from a malicious source.
If you aren't sure if you can trust an email, just go to the websites yourself. For example, if you get an email asking you to log into your bank to read a message, don't click the link in the email. Instead, open your browser and type the bank's web address yourself, so you know you're going to the real site.
How to protect your devices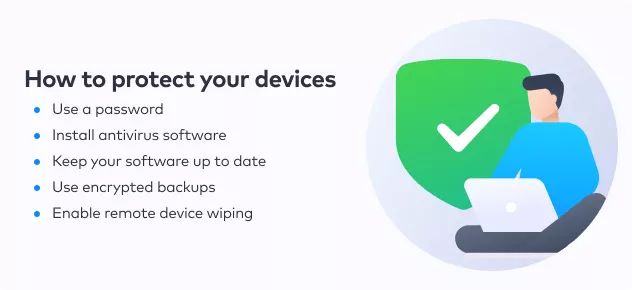 Use a password
Install antivirus software
Keep your software up to date
Use encrypted backups
Enable remote device wiping
Use a passphrase.
We use digital devices for almost everything now, which means that all of our phones, tablets, and laptops are full of private information. Protect yours with a password and other security features, like fingerprint scanners and facial recognition, if they're available, so that if they get lost or stolen, no one else can use them.
Install virus protection software
Some cybercriminals use bad software like spyware to get to the personal information of their victims. Use a trusted antivirus program like Antivirus with real-time protection, Microsoft Defender, Bitdefender, or Norton to stop malicious software from taking over your computer.
Update your software regularly.
Even trusted software can come with bugs and security holes that make it easy for attackers to get in. To make the software more secure, developers regularly release software updates. Make sure the software you use every day is up to date, especially your operating system and browser. Install new updates as soon as you can to get the latest protections.
Use encrypted backups
If you're backing up data to a computer or cloud-based storage, ensure that it is protected by encryption — like Dropbox, Google Drive, or iCloud.These things are easy to lose or steal, and if they don't have a password and encryption, anyone can connect them to a computer and see everything you'veProtect Your Online Privacy.
Enable remote device wiping
Many modern devices not only let you track their location in case they got lost, but also allow you to remotely wipe their data in the event that they end up in the wrong hands. If this feature works on your device—Android, iOS, Windows, and macOS all do—a it's great idea to turn it on.
How to protect your identity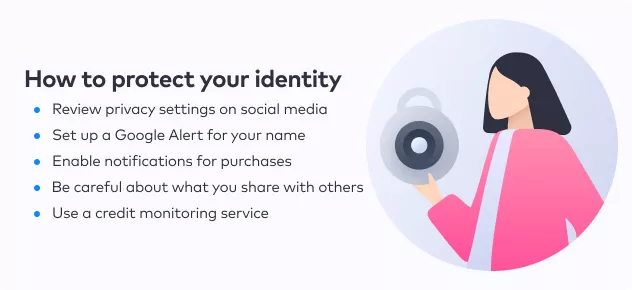 Review privacy settings on social media
Set up a Google Alert for your name
Enable notifications for purchases
​​Be careful about what you share with others
Use a credit monitoring service
Review privacy settings on social media
Many of us enjoy documenting our lives on social media. But if you're not careful, the information you post online could help someone else steal your identity. Ensure that only those you trust can see this information by reviewing your Protect Your Online Privacy settings on social media platforms like Facebook, Instagram, and Twitter.
Once you've enabled this setting, remove any friends or followers you do not know personally, and only accept friend requests from those you trust.
In addition, avoid posting pictures or updates that contain personal information, such as your address, date or birth, and social security numberAnd Protect Your Online Privacy.
Set up a Google Alert for your name
One thing many people are Protect Your Online Privacy unaware of is that you can set up a Google Alert for your name, so that when it appears online, you're notified of it. This can be incredibly handy if you're worried about someone else posing as you online, or creating new accounts in your name. To set up a Google Alert, visit the Google Alerts page and enter your name.
Enable notifications for purchases
If you're worried about having your credit card information stolen (and we all should be), it's a good idea to set up emails, text alerts, or push notifications for purchases, if you haven't already. This way, every time your credit or debit card is used, you will be notified. If your bank doesn't offer these features, be sure to keep a close eye on your balance and recent transactions so you can catch anything suspicious as soon as possible.
Be careful what you tell other people.
Protect Your Online Privacy You might be able to trust close friends and family with your personal information, but you can't be sure that they take their online security as seriously as you do.
As much as possible, don't let other people see things like credit card numbers and pictures that show personal information.
Use a credit monitoring service
If a malicious actor gains access to enough of your personal information, they may use it to apply for things like credit cards and loans in your name. By using a credit monitoring service like CreditWise, Experian, or IdentityForce, you'll be notified every time your credit file is accessed by a lender. You will also be able to keep an eye on your credit score.